Year 1
Here, you will be able to find out about all of the amazing things we are learning about in Year 1.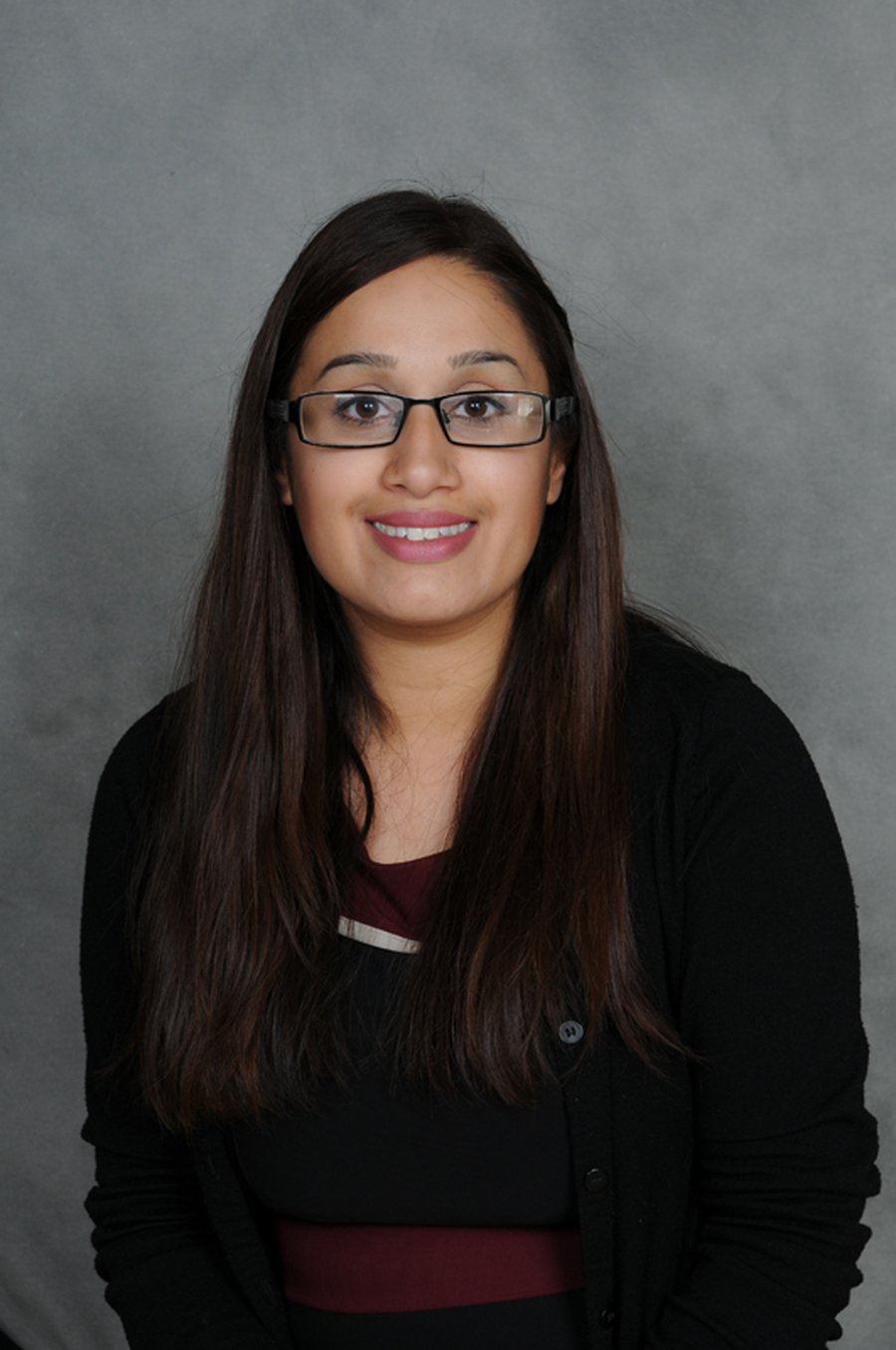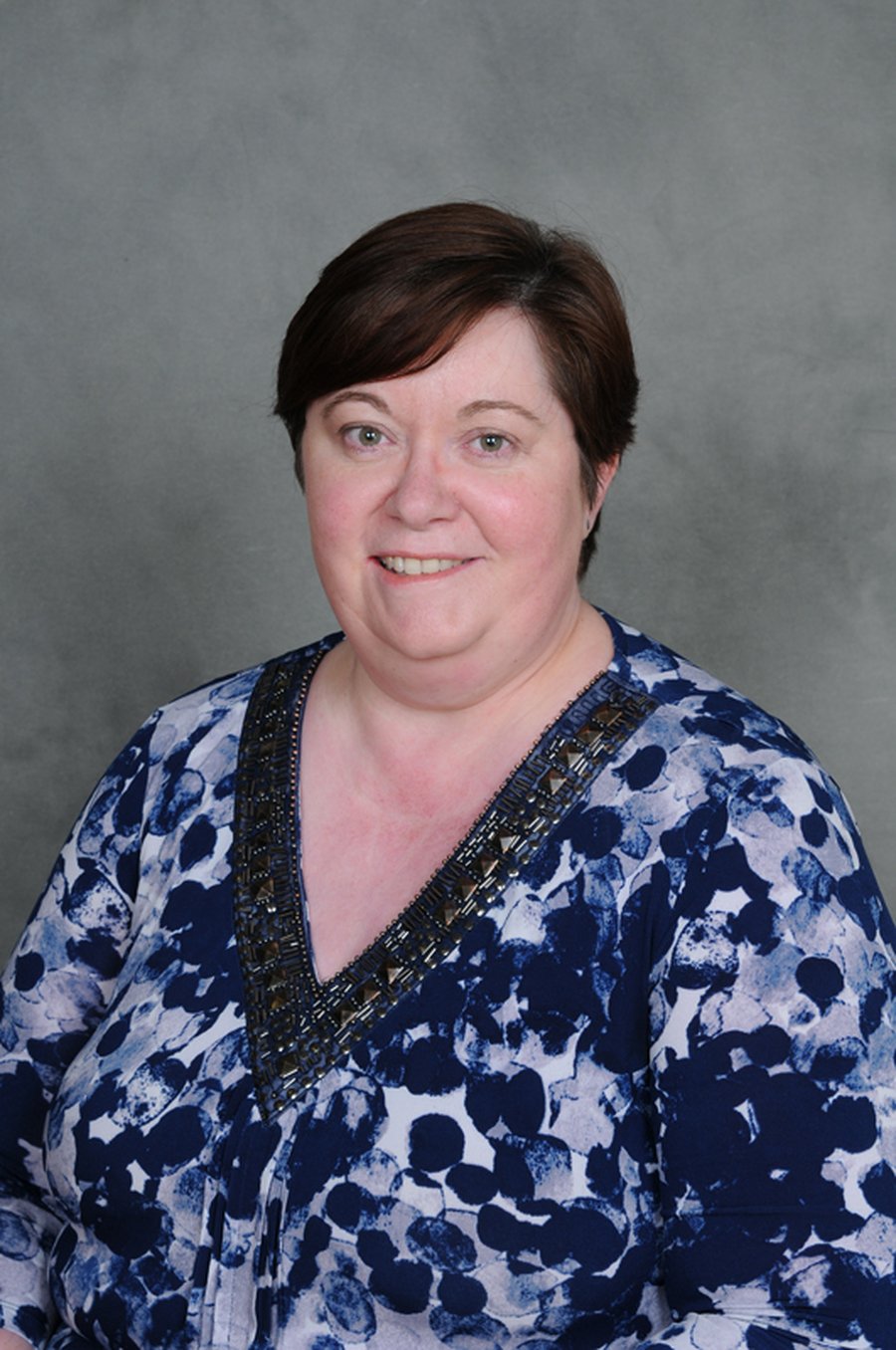 Ms C. Campbell
Teacher (Year 1 and 2 Phase Leader)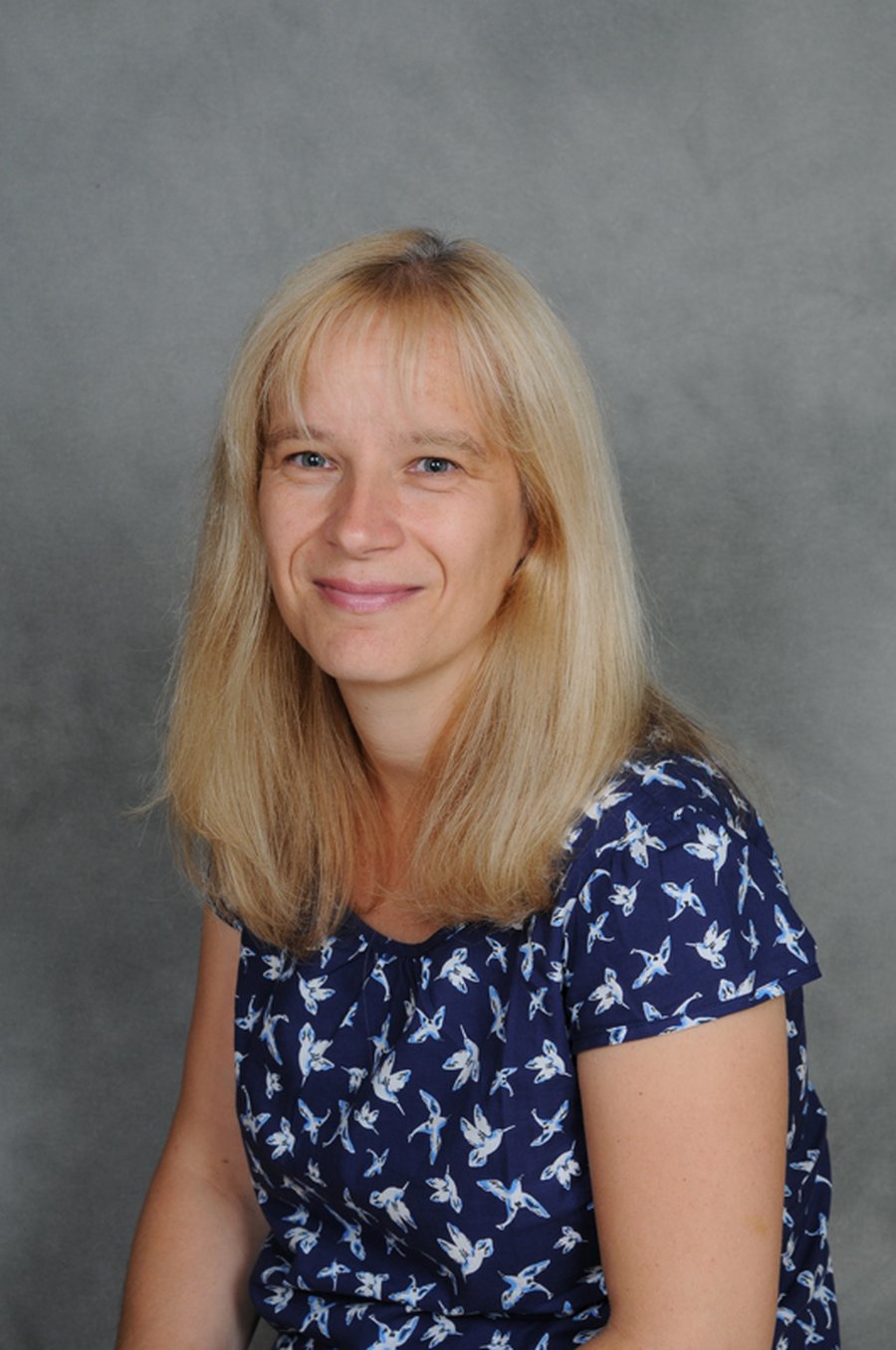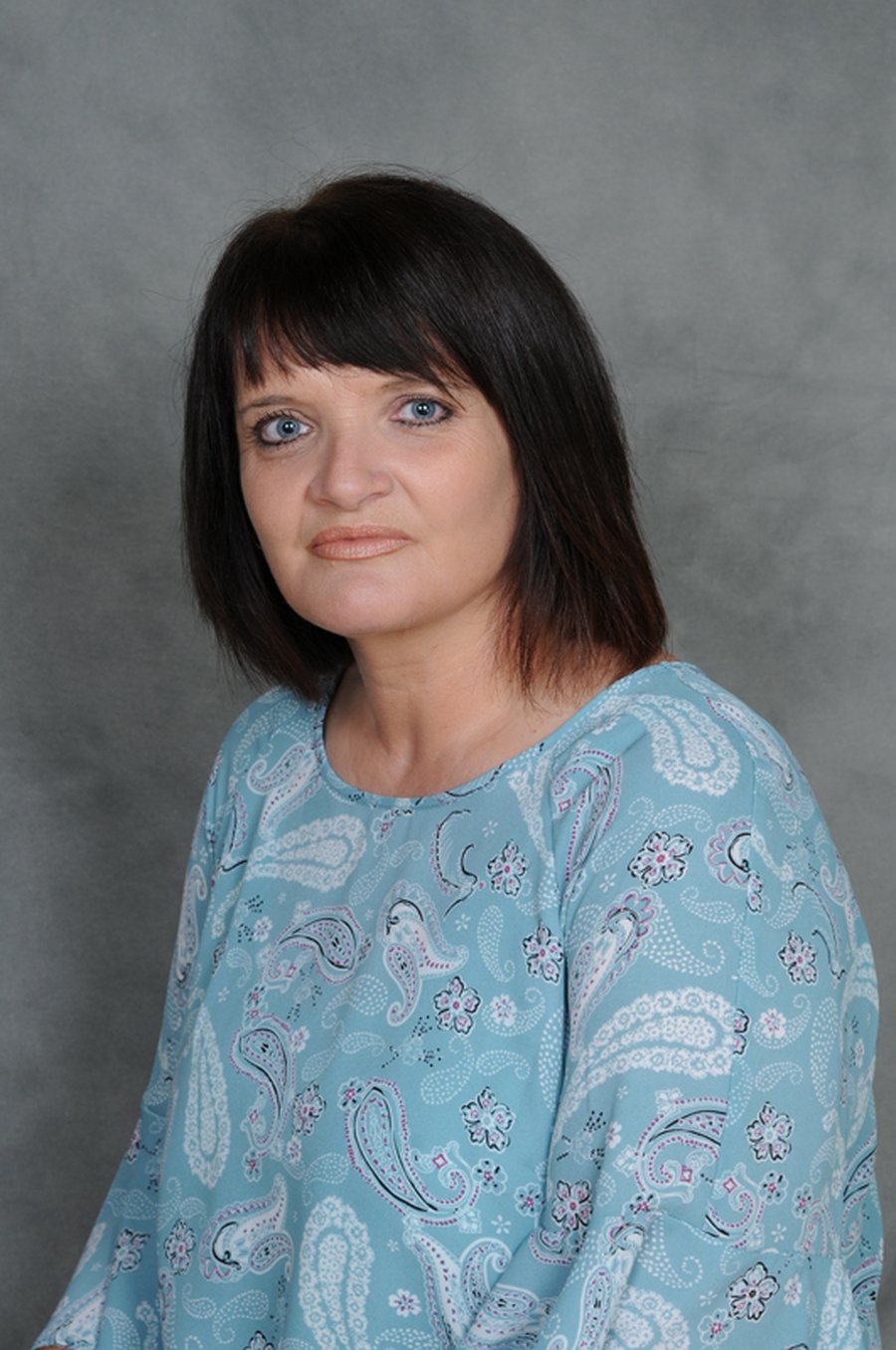 Mrs B. Horne
Learning Support Assistant
Our Learning Journey
Below you will find out about our learning journey over the last term. Please click on any document links for further information.
Year 1 Curriculum Map
If you would like to know a little more about what the children in Year 1 will be learning about this half term, please refer to our curriculum map document below. Alternatively, click here.
Meet Lilly who is 1C's Class Ambassador.
She is always smiling and helpful and greets visitors to our classroom with a warm welcome and informs them what learning is happening.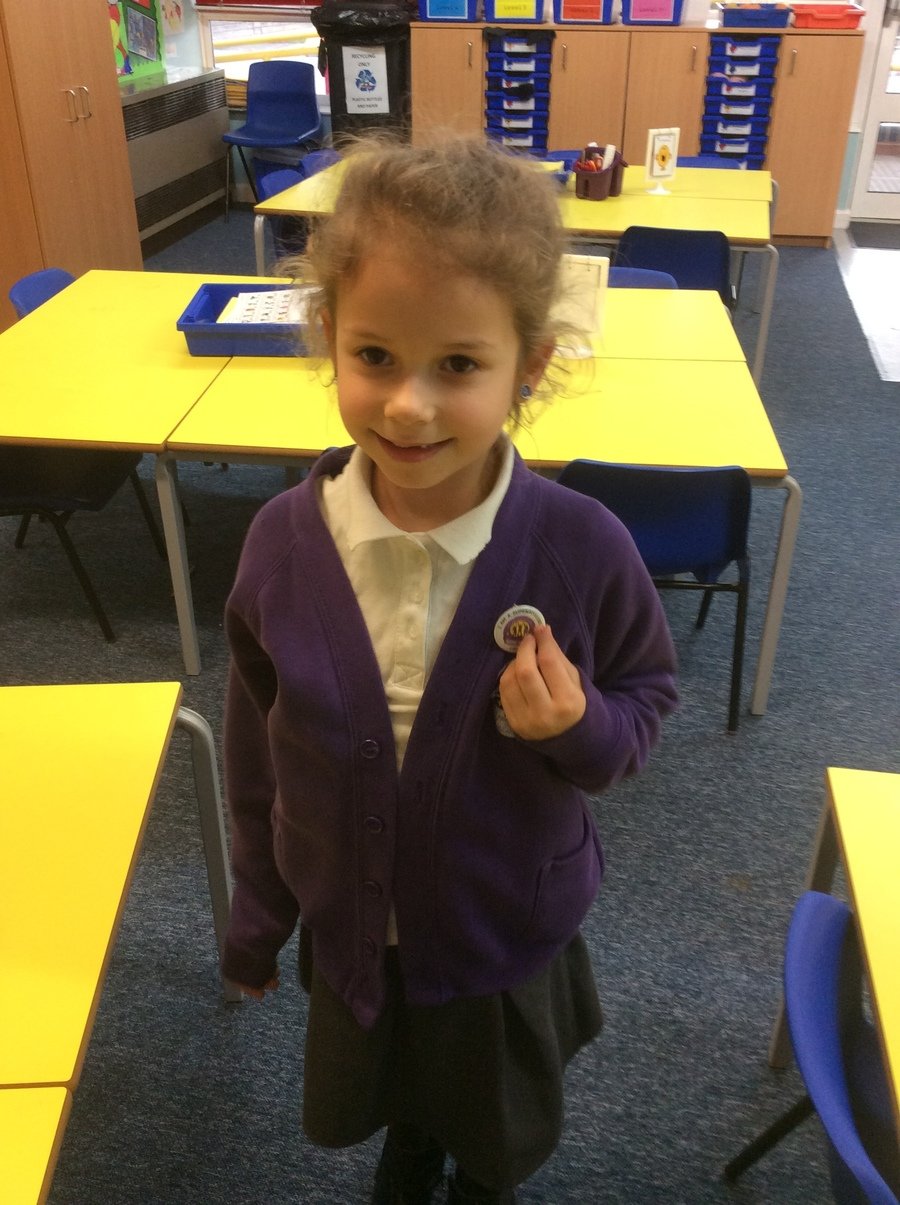 Celebrating Our Success
Well done Harrison and Ollie for you Class Champion award certificates.
Keep up the hard work!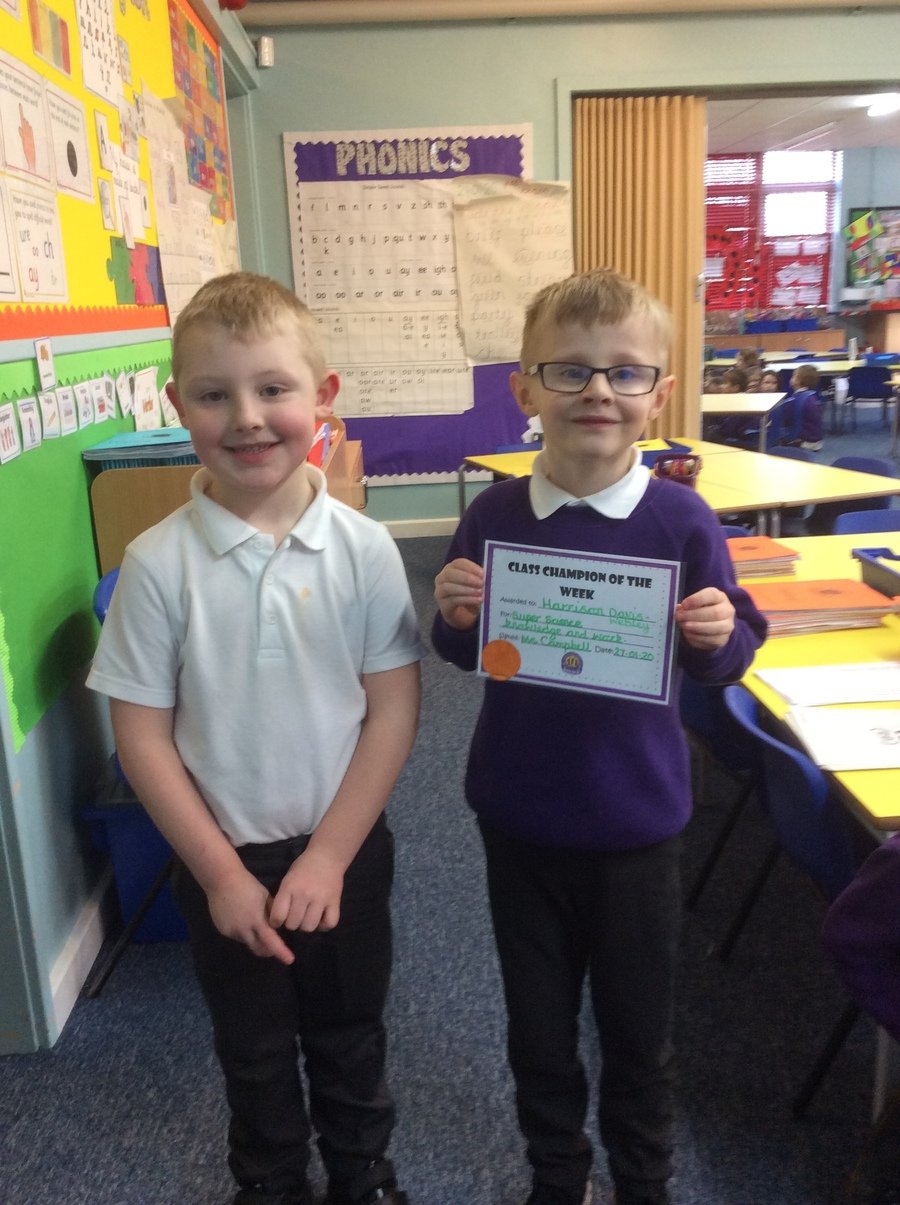 Congratulations to Caleb for being the class champion. Keep up the good work with your phonics. We have all been very impressed with your effort. Well done!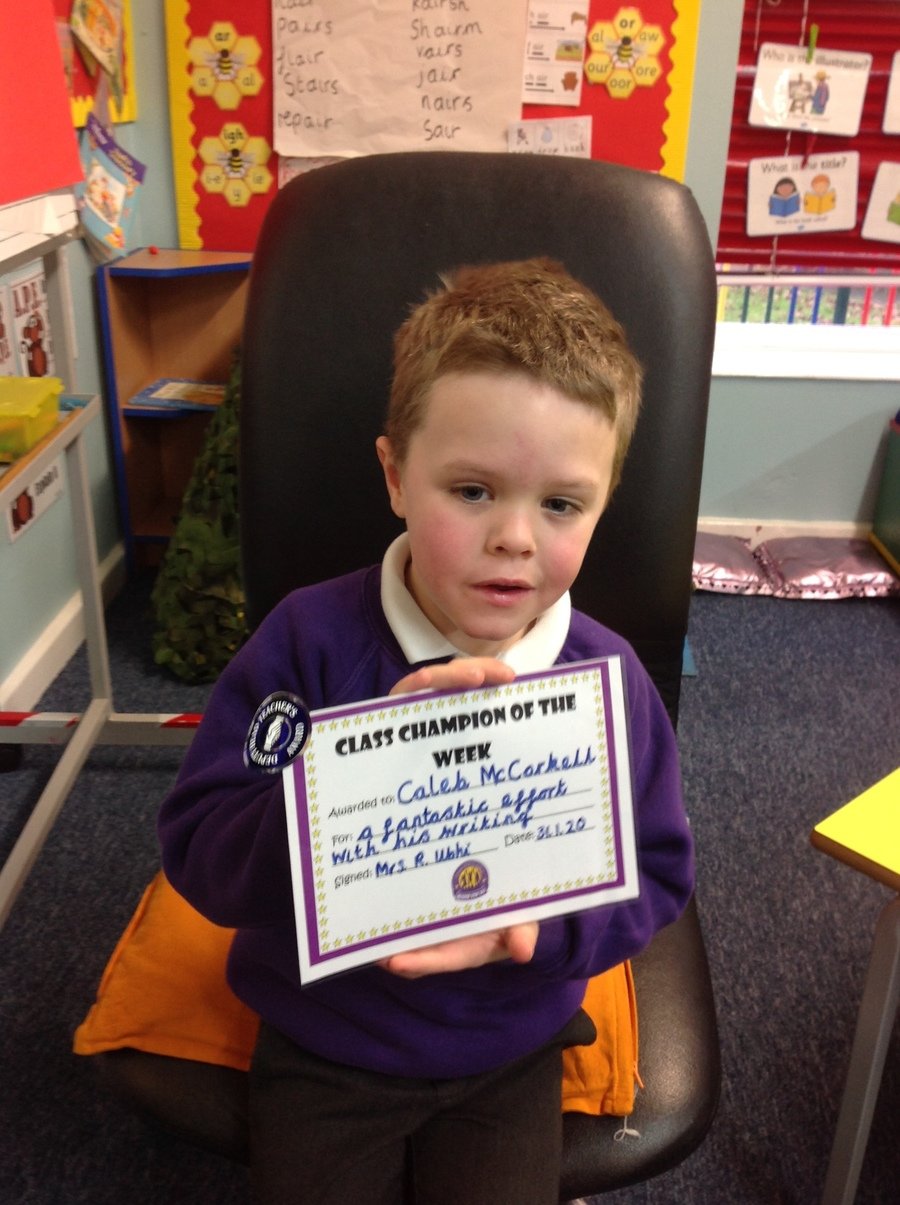 Congratulations to Karter who was awarded the Values Champion certificate for resilience in 1C.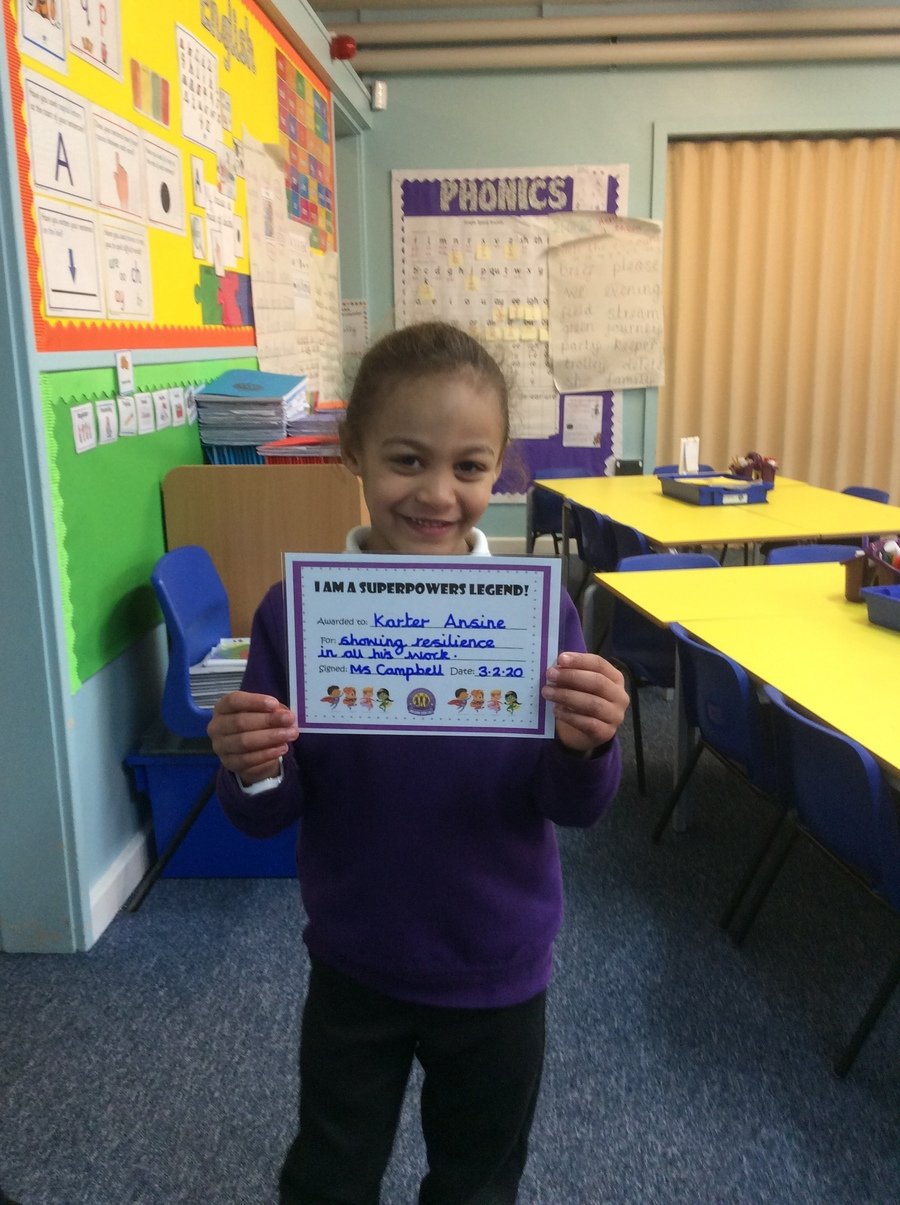 Year 1 are enjoying looking at the work of the Spanish artist Jean Miro.
We have drawn different types of lines and shaded the shapes we made.
We have also tried this on the computer using a paint program.
Year 1 have enjoyed wearing their odd socks to raise awareness of bullying. Odd socks are a symbol for being different and we love being different! We have explored the theme, 'change starts with us' and discussed how a small change can make a big difference.
1C had lots of fun raising money for Children in Need by wearing yellow or spotty clothes.
We also took part in some fun sporting activities to keep fit and healthy. It was great fun!
Reading Suitcase
Kaiden in 1C really enjoyed taking home the reading suitcase and sharing the hot chocolate and biscuits with the bear.
Mummy read 'Meg's Castle' to them. They both loved Meg and Mog.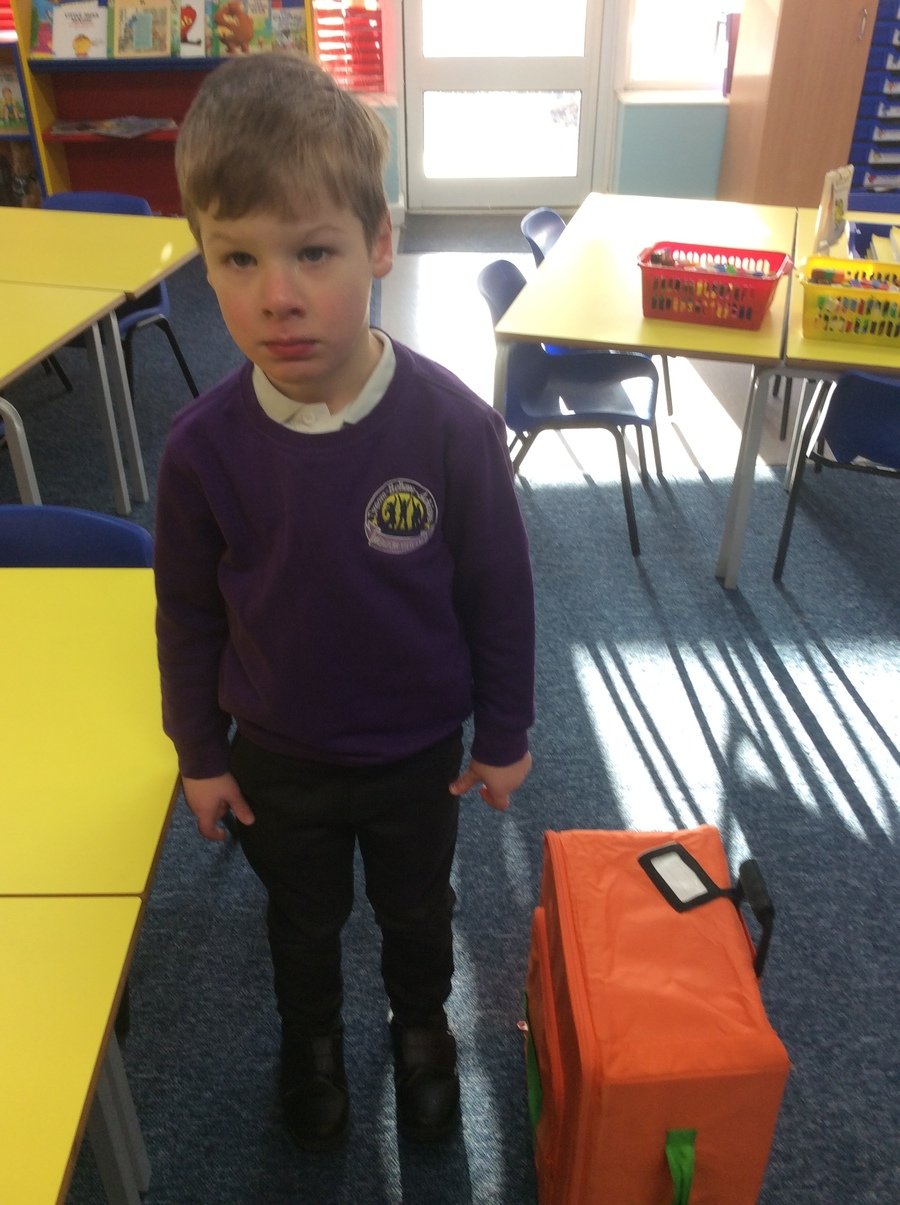 Phonics
Ms Campbell's phonics group have been working really hard on recognising and using their Set 2 sounds in words.
Well done everyone, keep up the hard work!
Safer Internet Day
Year 1 have been learning all about staying safe on the internet for 'Safer Internet day 2020'. We focused on our ' identity and the things that make you… YOU.
We looked at things we enjoyed, our talents and strengths and lots of others in lots we are special but their identity is unique to them. We explained that what you do online forms part of your identity too and discussed the types of things that are suitable to share online and offline.
English
Year one have been working hard and reading the story of The Three Billy Goats Gruff.
They have worked extremely hard to act the story to retell it, showing a fantastic understanding of the key events and the characters. They have used role play to show how characters feel, as well as different tones of voice and facial expresssions.
Jaxon enjoyed our work in our English lessons on the Three Billy Goats Gruff and made a lovely detailed picture at home showing the story characters and using speech bubbles to show them speaking to each other.
Well done Jaxon, super work!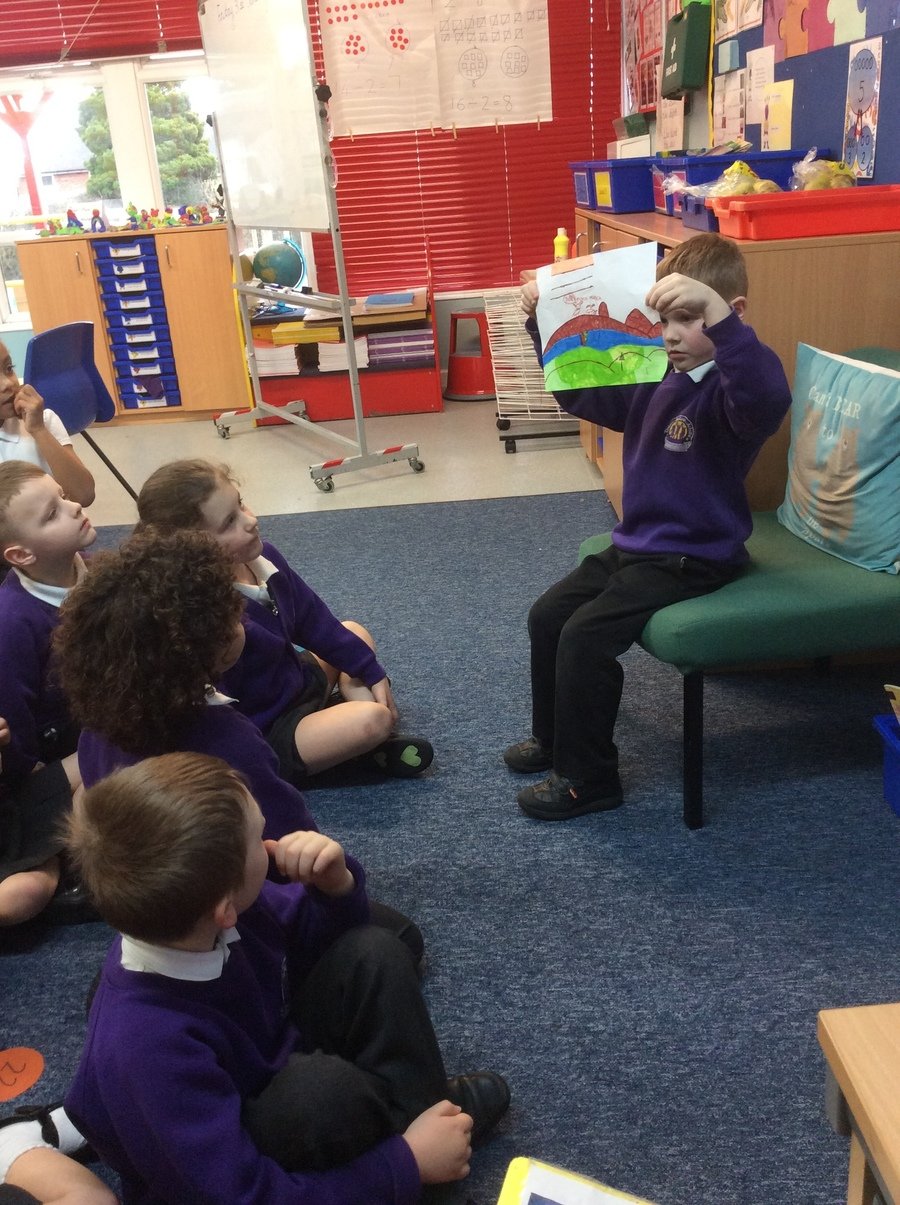 Science
Year 1 are enjoying their latest science topic 'Materials' and have been finding out about everyday materials and their properties.
Lilly, Jaxon and Isabella carried out an investiagtion to test different materials with a torch to find out which were transparent, translucent or opaque.
Year one have thoroughly enjoyed thinking about being unique and designed their own signatures in the style used by the famous artist Joan Miro.
Year 1 enjoyed painting their name in the style of Jean Miro.
Year one have enjoyed being yellow and spotty to raise money for Children in Need. We have enjoyed taking part a range of sports activities in the hall to get moving and keep fit!
Bird of Prey
Year 1 had a visit from a bird of prey this afternoon, a Hawk.
We have been learning all about animals and their features and characteristics in our Science lessons this term.
We had the opportunity to put on a long glove to protect our arm and hold the hawk. It was very exciting.
General election
Year 1 had a visit from the Year 5 election candidates this afternoon.
We listened to their speeches and asked them questions about their policies.
1C performed their class assembly today for their families. Mrs Campbell and Mrs Horne are so proud of them all for learning their words and having the confidence to show their wonderful work to everyone. Well done!
Maths
Year 1 have been learning about halving this week in maths.
They have halved 2D shapes and used equipment and pictorial resources to halve amounts of objects and numbers. We even used our previous knowledge of doubles to help us to find half.
We enjoyed working with a maths partner.
Year 1 have learnt all about 2D and 3D shapes in maths.
We learnt the names of the shapes and their properties. 3D shapes are also good to build with, so we worked in groups to build a shape model and name the shapes we had used.
During Anti- Bullying week, Year one discussed how to be a 'good friend'.
We talking about using kind words as a way to make and keep friends. We have recorded nice things about each person in year one and shared them. We have connected all the compliments together to create a wonderful 'Friendship Chain'.
Year 1 have had an amazing time in their inspire session and created fantastic surrealist sculptures in the style used by Joan Miro. They have used a range of skills to
make different components of a sculpture and scored pieces to join them together. They have added​ details using tools and explained how Miró's sculptures were Surreal.
​Thank you to all the parents that came to support the children. We had great fun.
Dudley Zoo
Year one have had an amazing time at the zoo this week and thoroughly enjoyed getting up close to a lots of animals. It was amazing to see their learning in the science unit about animals being consolidated and brought to life.
We also loved out visit to Santa's grotto and the meeting the elves and reindeer.
In R.E, 1C discussed why people say prayers. They then thought about what they would like to say thank you for in their class and wrote a class prayer together.
History
As part of our history topic on The Great Fire of London, Year 1 had a visit from Perry Barr firefighters and a fire engine.
The firefighters told us all about the clothes they wear to protect them from danger.
We also learnt about the equipment they use, such as a light on their helmet.
After that we went outside and saw the fire engine and each of us had a try with the powerful hose.
Thank you to the firefighters for visiting us, it was great fun and we learnt so much.