Anti Bullying Week
Anti Bullying Week
9 November 2018 (by Mitch Button (mbutton))
12th-16th November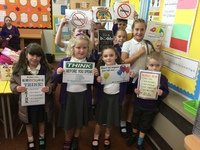 Anti-Bullying week is the 12th-16th November. The children will be participating in activities and lessons based around showing respect and how to be safe on the internet to help raise awareness against bullying.
Monday 12th November the children are encouraged to wear odd socks to help spread the awareness of individuality. We are looking forward to seeing what work is produced next week.
Anti-Bullying week 2018 at Meadow view.
On Monday 12th November, the children wore odd socks as part of celebrating Anti-Bullying week. The children discussed how they are all unique and their odd socks represented their individuality. What a great week we are having supporting this brilliant event!